In Memory
Polly Anna Patton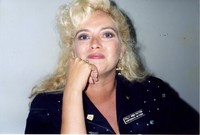 Polly Anna Patton

Memorial Saturday, September 28, 2013, at 1:00 p.m. at Ebensberger-Fisher Funeral Home
Interment Private Burial at Boerne Cemetery
Born September 28, 1954
Died September 23, 2013

Polly Anna Patton was born on September 28, 1954, in San Antonio to Douglas Patton, Sr. and Dolores Wood Patton. She passed away Monday, September 23, 2013, to be with her heavenly Father. She was raised on the family homestead with her sister Elaine and her brother Douglas, Jr. She graduated from St. Albert Hall in Boerne. Polly was always very religious; she rejoiced in the Lord and walked in His light. She was very active in the family's church, Leon Springs Presbyterian. Her parents were the first couple to be married there and her siblings were christened there as well as Polly. She was an extremely talented and artistic florist. Polly and her mother Dolores owned and operated a flower shop named The Flower Basket, which was a Boerne institution for 18 years. Polly loved and championed for animals all of her adult life. She was also very involved with the Commemorative Air Force (CAF). Polly was a kind and generous soul.

Polly was preceded in death by her Daddy, Douglas R. Patton, Sr. and her uncle Willie Dever Wood, Jr. She is survived by her mother, Dolores Wood Patton; her sister, Elaine Raymond and husband Richard; her brother, Douglas R. Patton, Jr. and wife Ingeborg; her uncle, LeMoine Wood; her nieces: Colleen Pannell, Andrea Self, April Platt, and Ariel Patton; her nephews: Douglas "Treybo" Patton, III and Chase Belcher; her grand nephew Kiernan Roles; several friends, cousins and loved ones; and her beloved dog, Willow.

The funeral service will be Saturday, September 28, 2013, at 1:00 p.m. at Ebensberger-Fisher Funeral Home. The Wake will follow at 2:30 at the Fellowship Hall of Leon Springs Presbyterian Church. Flowers may be sent to the funeral home and food may be sent to the fellowship hall. Polly would have loved donations made in her honor to the Humane Society of Kendall County at 214 Fawn Valley Drive, Boerne, TX 78006. To leave condolences for the family and to view a video of Polly's life, please visit www.ebensberger-fisher.com and select the Obituaries tab.

Arrangements with Ebensberger-Fisher Funeral Home of Boerne.